February 20, 2014:
Joshua N. Garick was honored by Suffolk University Law School at the annual clinic/internship alumni reception. He received the Outstanding Alumni Service Award for his ongoing contributions to the clinical program while a student, as well as his contributions to the program after he graduated. This award was presented by the Director of Clinical Programs, Professor Ragini Shah as well as Mr. Garick's former clinical instructor Professor Stephen Callahan. The Suffolk University Law School alumni magazine also published an article about Mr. Garick and his advocacy in the Rivas v. Chelsea Housing Authority case that was heard by the Massachusetts Supreme Judicial Court.
CLICK IMAGE TO READ ARTICLE: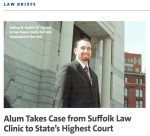 (Courtesy:  Suffolk University Law School Alumni Magazine, Winter 2014)  
Mr. Garick's commitment to the clinical program today is as strong as it was when he was a student. Mr. Garick still devotes tremendous resources to the underprivileged members of the Chelsea, Revere and Boston communities by providing pro bono and reduced fee legal services to those who otherwise would be unable to afford legal services.